Parts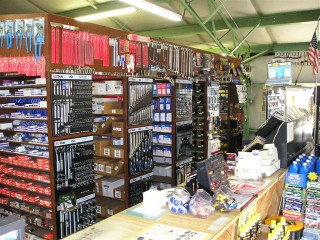 | | |
| --- | --- |
| · | Tisco Tractor Parts |
| · | Cat,Cummins,Detroit Engine Parts |
| · | Heavy Duty Brake Parts |
| · | Heavy Duty Electrical |
| · | Custom Made Hydraulic Hoses |
| · | Custom Made Battery Cables |
| · | Starter/Alternator/Battery Testing |

With over 30 years of experience. We pride ourselves in helping you solve your problems.

With a network of 3 warehouses; we have access to over 1.5 million parts available overnight. We Specialize in hard to find parts

Both locations feature complete inventories.

From Audi Cars to ZTR Lawn Mowers we can keep you on the road or out in the field.
| | |
| --- | --- |
| · | Complete Nut/Bolt Inventory |
| · | Cut To Length Exhaust |
| · | Cut To Length Steel |
| · | Brake Drum/Rotor Resurfacing |
| · | Machine Shop Service |
| · | Daily Shuttle Service Between Stores |